Windham Junction Then and Now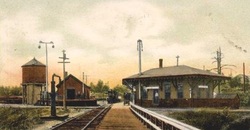 Windham Depot holds a prominent place in New Hampshire railroad history, and within the town itself. Constructed in 1849, the Manchester & Lawrence Railroad established the first train service in Windham, as the industrial revolution expanded to cities north of Boston.


---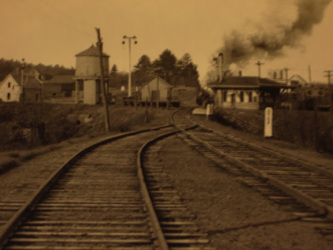 Using hand tools and black powder to clear ledge along the bed, the construction was considered an engineering challenge, and lead to the most expensive section of the project. Walking along the trail today, you will observe predominant ledge cuts, high areas of fill, and pits which material was extracted for the rail bed. Legal controversy ensued as the project was believed delayed by the M&L RR due to poor engineering and project management, leading to a legislative investigative committee study in the New Hampshire House of Representatives. It was the Big Dig before its time!


---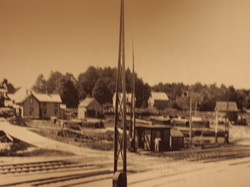 The first train on the M&L operated on November 13, 1849. In the early 1900's the original Depot station was moved about 200 feet east on Depot (near where it currently stands) with the existing Depot structure built for $2,200. With the intersection of the Worcester, Nashua and Rochester Railroad, (abandoned in 1932) two sets of signals were maintained, one higher than the other both penetrating a corner portion of roof. Other buildings in the Depot included the town's first post office, a general and grain store, and sawmill, The M&L leased the line to the Boston and Maine in 1887 until 1919 when it was eventually merged with the B&M. The Bar Harbor Express passing through was a thrill for the neighbors to watch during the summers of 1902 – 11, as well was a campaign stop by Teddy Roosevelt. The last passenger train was operated on July 10, 1953, with freight pass through occurring until the early 1970's. What remains today are the Depot and freight buildings.

---
Historical Photos - Then

Now

Copyright 2018 Windham Rail Trail Alliance