Donations and Sponsorship
The success of the WRTA and enjoyment of this trail is founded on its membership and sponsors. The Windham Rail Trail Alliance is a registered Non-Profit organization in the state of New Hampshire and tax exempt pursuant to section 501(c)(3) of the IRS code.
Through its activities, the corporation will provide the public a premier non-motorized recreational and educational experience by use of the paved trail and restoration of the historical buildings located at the Windham Depot.
Donate On Line
We are pleased to offer secure on-line donation capability. The WRTA has provided maintenance since its inception through grants, private donations, and volunteers. This year we are starting a maintenance fund to help pay for material required to keep the Windham Rail Trail the benchmark for paved rail trails in New Hampshire.
If you like what you see and experienced, please consider a donation.
Suggested Donations
Friends - $25
Foot of Trail - $100
Partner - $250
Sponsorship
Founder - $2500 and above
Supporting - $500 and above
Founder, Supporting and Organizational Sponsorship includes marketing space on our website.
Buy a Foot of Trail !
For $100 you can sponsor a foot of trail. We will recognize you as a "Trail Holder" of a piece of trail. Trail Holder names will be placed in a prominent fashion along the trail. Multiple "feet" are encouraged!
Mail contributions to the Windham Rail Trail Alliance at the address below.
For further information and presentation of the planned project, please reach us at the phone numbers below.
Contact Us
Here is how to contact us:
Postal address

Windham Rail Trail Alliance
P.O. Box 4317
Windham, NH 03087

Telephone

603-434-0806
603-498-3423 (mobile)

Email
General Information: msamsel@windhamrailtrail.org

Webmaster: webmaster@windhamrailtrail.org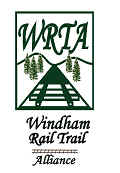 Copyright © 2013 Windham Rail Trail Alliance