Boston and Maine C16

The Windham Depot is happy to be the home of the former B&M C16. The C16, or model N5b was built in 1932 as one of 25 all steel units in the Concord Shops. The original number scheme was 104705 and changed the C16 in 1942 along with renovations to the buggy that provided upgrades, and in the 50's the paint was modified from former B&M maroon to "McGinnis" Blue, a change attributed to a former B&M President Patrick McGinnis. The caboose was deemed as un-road worthy in the early 70's resulting from a train yard bump in Portland Maine, and subsequently acquired by Bill Body formally of Salem, NH who housed the caboose at his business in Lawrence, Mass.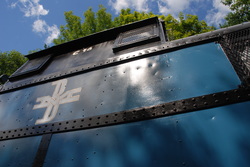 The Windham Depot Advisory Committee and Windham Rail Trail Alliance was approached in 2007 if there was interest in purchasing the unit, and with the help of the Town of Windham agreed and moved it to its present site.

The location along at the Depot and Frost Road junction was laser graded with the 49 feet of rail installed by Committee volunteers.

2008 was the first C16 Eagle Scout project was delivered by Cliff Reandeau of Windham who re-finished the exquisite wood floors. In 2010 the site benefited by an Eagle Scout project managed by Troop 266 Scout Gregory Samsel which included a bench area along with a bike rack and in 2014 by Troop 266 Scout Michael La Liberte who did a tremendous job cleaning out the former Stickney General Store cellar hole, and installed a sitting bench. 2014 also had 2 major projects funded by the WRTA; welding repairs to the front lower edge as well the under hangs, and complete painting by Phil Pemberton. Windham resident Jim Kusch provided a tremendous job replacing the A and B end cupola windows.


---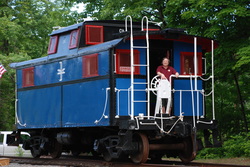 The train is open for viewing at random times throughout the year. As former rail road employees and railfans travel far and wide to see this well maintained piece of B&M history we are happy to open if requested. As well we host various schools who bring students for viewing. Please contact the webmaster or Town of Windham Depot Advisory Committee for more information and the request process.

---
The Move - How was this done?

Now

Copyright 2017 Windham Rail Trail Alliance